*By Dayana Sobri,
8th August 2010.
Shopping is a fun retail therapy, NOT a trip to the counselor therapy........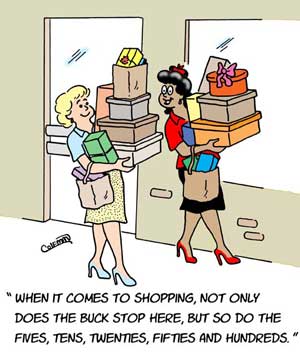 Most of us get stressed out when it comes to shopping, be it grocery shopping or clothes shopping. But it doesn't have to take a rocket scientist to figure out the calculation of a good shopping. You simply just have to be more rational and take every little detail into account. Before you do your clothes shopping, always consider these points firsthand:
Do you really want to shop there? Is it hassle-free?
Ease of access: Is it too far away?
Will the traffic add to the travel time and cut away your precious time?
Is it too time-consuming?
Convenient hours? (Shop opens very early and closes very late)
6. Convenient parking? (Parking lot is accessible, reasonable rate and located strategically)
Safe area? (24 hour security, in a public place with a lot of other people)
Good selection? (A one-stop store/mall with everything you need at the same place)
Good fitting rooms and lighting?
Helpful and friendly staff?
Amenities such as free alterations, cafe, valet?
Does the store keep you apprised about events, sales and new arrivals?
Have you made your shopping list? (Separate wants from needs)
Have you consider your shopping budget?
Will it be cash or credit while shopping?
Only when you have considered all of these points will you be able to go shopping fuss-free. Shopping should not be a stressful moments, you should make it a happy and fun time to do some retail therapy and releasing your tension. A lot of us makes mistake by adding pressure to ourselves when it comes to shopping. Now during your clothes shopping, make sure you:
Wear comfortable shoes, as you will be doing a considerable amount of walking and standing.
Carry a bottle of water and a light snack, gum or mints with you in case you get tired.
Wear comfortable underwear (not too tight, not too loose. This will play a huge role when you're trying on clothes)
Don't wear anything that restricted your movement.
Have done your shopping list and know what you're looking for and need.
Made your budget and stick to it. (so you won't overspend and buy unnecessary stuff)
Carry enough cash with you (to avoid humiliation when you're paying at the counter)
Carry ATM card along with you (in case you're short on cash)
Credit card (ONLY when emergency occurs)
It's not all that confusing to do some shopping when you've got everything sorted out. But what about shopping online? Is it the same as going shopping on your both feet? Always consider these tips when you're doing some online clothes shopping:
When choosing items online remember to stay within the budget and look for items that are in your seasonal colour and body shape.
Make sure you complete the order form and payment process (keep it secure)
Make sure the online store you're shopping at has a liberal return policy (in case there's a damage on the items purchased or they'd sent a wrong one and you're not satisfied with the item or service)
Make sure the online store is a legit and legal company with a secure customer service (you don't want yourself to be ripped off)
Be sure to record all of your purchases. Keep careful records of your purchases and keep track with your spending every time you went shopping. Be wise on your finance and be a smart-shopper.